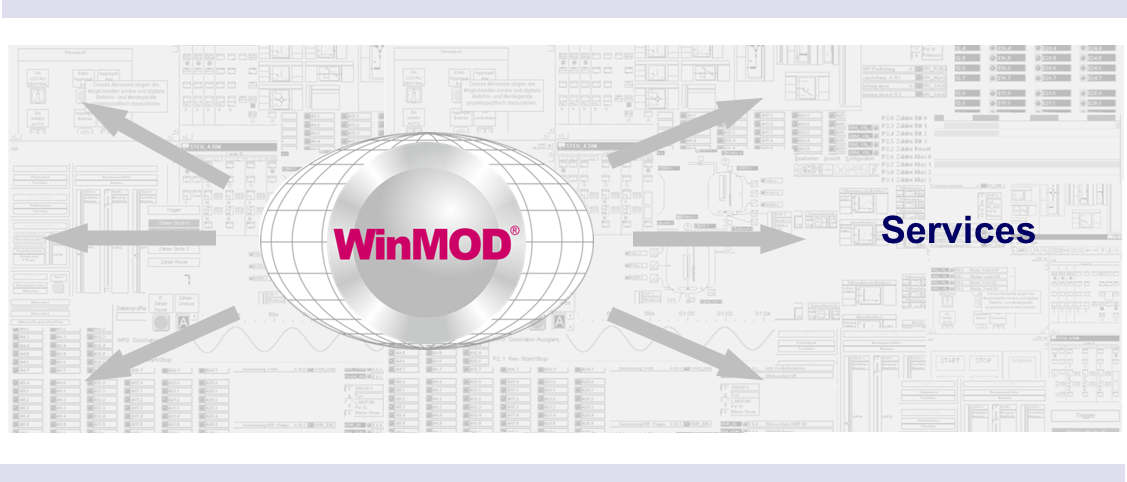 Services
We would like to inform you about the services we offer.

We are glad to assist you by providing trainings.

Workshop
WinMOD is used worldwide in many different technological fields, in combination with a wide variety of automation systems for applications such as software testing, virtual commissioning and training on automation systems.
The 20-year success story of WinMOD is based on a completely independent system development, resulting in very effective methods for the creation and application of real-time simulations.
We are happy to introduce you to our WinMOD System remote workshop via the Internet, in which the most important system features and workflows will be explained, as well as questions regarding the automation system, technologies, use case and uses are cleared to participants.
A workshop at your company is also possible according to agreed contents and usage goals. This workshop would then focus on topics such as engineering processes, data acquisition, usage processes and project examples.
Training
Training based on IQU projects (Information / Qualification / Utilization):

The WinMOD Training is individually customizable according to the WinMOD System Software and to the WinMOD System modules with IQU projects and IQU license. A training supervisor will support you in the implementation of the IQU projects.

Training based on individual company-specific training packages:

The WinMOD System is easy to use and can be learned quickly and intuitively. However, a quick, successful start requires efficient concepts, procedures, and workflows. These are taught in WinMOD Training, on example projects in 2 days, or more in relation to customer projects on 3 days.
The training concepts are individually tailored to your wishes and needs and are carried out in our company or in exceptional cases in your company.
The training take place in very small groups (max. 3 participants), are practice-oriented and allow a fast implementation and application of the learned. After only 2-3 days of training, participants will be able to set up and edit WinMOD Projects independently in a WinMOD System even without previous knowledge.

Range of services of WinMOD Trainings:

engineering workflow virtual commissioning (VC)


engineering workflow digital twin

connection of automation systems through WinMOD Configurations

WinMOD Basics: signal and operand handling

configuration of WinMOD Simulations and WinMOD Components

industry-specific simulation techniques

WinMOD Project organization

engineering workflow based on 3D CAD data

WinMOD behavioral model: virtual devices based on the WinMOD Libraries

WinMOD-SIMLINE: 3D material flow simulation e.g.

for intralogistics, automotive, manufacturing, assembly, mechanical engineering
Project Support

For the first WinMOD Project, we offer support as part of our WinMOD Project support. Concepts for project management accompany the WinMOD Project Support. The placement of proven components from the OCA libraries is also part of the WinMOD Project Support.
Necessary technical prerequisite is an Internet connection available on the WinMOD PC and the WinMOD Support Tool. Appointments for the implementation of the WinMOD Project Support will be coordinated individually between you and Mewes & Partner.
Engineering

The WinMOD Engineering includes the preparation and testing of company-specific behavioral models, process components and WinMOD-SIMLINE components. Furthermore, the development of pilot projects, which combine company-specific technologies and devices in one project.

The pilot project is used to test behavioral models, software components in conjunction with basic technologies and to qualify maintenance personnel.

As a benchmark for the design and content of WinMOD Projects from suppliers.

For the processing of sub-projects and advice on virtual commissioning (VC).
For the engineering to partially or completely create your WinMOD Simulation projects, we offer you our qualified WinMOD Engineering services. We will gladly prepare an offer after the vote.
Research and development projects

Own projects:

The innovation cores of the WinMOD System Platform lead to continuous development.

The results are new products or improvements to existing products.

Cooperation projects:

Specific developments on Industry 4.0 are being pursued here.

Bachelor and Master Thesis:

Consultation and support from other companies.

Topic and editing at Mewes & Partner.