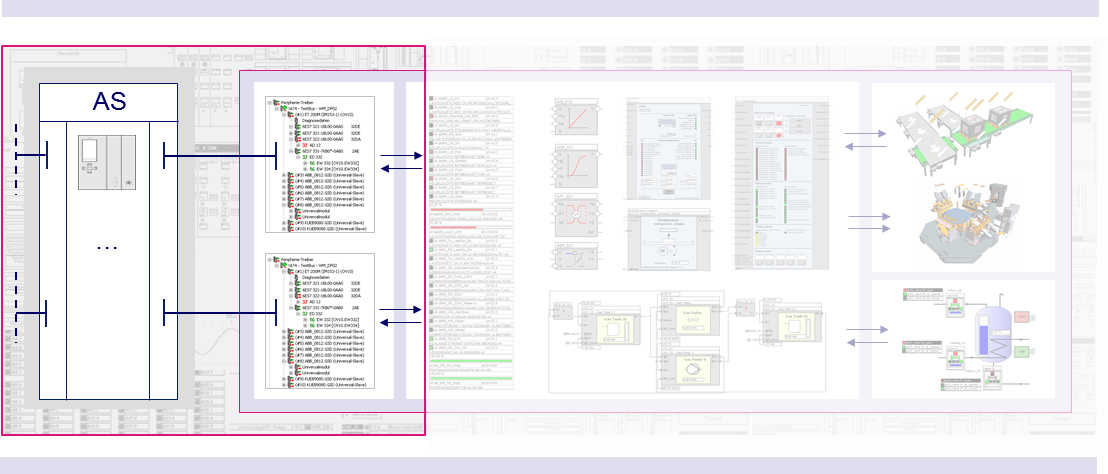 WinMOD Configurations
The WinMOD Configurations connect the automation system by different manufacturers to WinMOD Systems. The outstanding features are real-time performance, the combinability and scalability from small to large WinMOD Projects.
The available WinMOD Configurations enable the virtual connection of all standard automation systems (AS). For each AS product, several configurations are available for different operating conditions. For the selection of configuration, it is recommended to take advise from the WinMOD Team. The goal in selecting the WinMOD Configurations must have best possible performance in run mode and avoidance of software changes in AS. It is possible for connected AS to transmit cyclic, acyclic and safety signal.
Configuring the WinMOD Configuration
The connection between the project in AS system and the project in WinMOD System can transmit several thousand signals. The WinMOD Configurations provide assistance functions to assist in editing. They use existing engineering data:
from the programming system of AS
from the planning tools (E-Plan)
from the user-specific database mapping
Currently available WinMOD configurations
A740 for automation systems with PROFIBUS DP Multislave-Emulation
A750 for SIMATIC S7/PCS7 simulation PLCSIM (subsequent product A755)
A755 for SIMATIC S7/PCS7 simulation for Remote Coupling with S7 PLCSim
A756 for SIMATIC S7 simulation for Remote Coupling with S7 PLCSim Advanced
A770 for SIMATIC S7/PCS7 simulation with MPI coupling (RS-232 and TCP/IP)
A780 for SIMATIC S7/PCS7 simulation with PROFIBUS DP & PROFINET IO (Release until SIMULATIONUnit version 8.x)
A800 for SIMATIC S7/PCS7 Controller with PROFINET IO/ PROFIBUS DP
B110 for Ethernet/IP coupling for Allen Bradley (Rockwell AS)
I200 for TCP/IP coupling for TwinCAT (Beckhoff)
I300 for TCP/IP coupling for B&R systems (control and fleet management systems)
S210

for message-oriented communication with TCP/IP, UDP/IP and RFC1006

X520 for INTERBUS Multislave-Emulation and PC WORX (PHOENIX CONTACT)
X550 OPC UA
X620 for automation systems with MODBUS coupling (RS-232 or RS-485)
X620 I/O for automation systems with RS-232 or RS-485 for variable I/O coupling
X630 for automation systems with MODBUS coupling (TCP/IP)
X630 I/O for automation systems with TCP/IP (MODBUS) for variable I/O coupling
X640 Configuration Add-On for Configuration X630 for Modbus TCP Multislave Simulation
X700 for PROFINET IO Multidevice-Emulation and PC WORX (PHOENIX CONTACT)
X800 PROFINET IO Multidevice-Emulation, PLC neutral
Y200 with DLL Shared Memory for external applications
Y500 OPC DA
Integration of the WinMOD Configuration into project settlement
In the WinMOD Project, the WinMOD Configurations are described as the structure of simulated field devices. In the first part of  WinMOD Project, every signal in the WinMOD System Software can be connected to a configurable WinMOD Signal Element. Therefore, the signal value can be visualized and can be actively adjusted to the appropriate setting.
Scaling
WinMOD Systems can be connected to multiple communication channels with appropriate communication equipment. They can be from similar or different WinMOD Configurations. In communication with the scalability and multi-instance capability of the WinMOD System Software, task-specific, very complex and large-scale WinMOD Projects can be realized.
Development
The WinMOD Configurations belong to core competence in WinMOD System Platform. The development of WinMOD Configuration is given by
new neutral communication profiles such as OPC UA, PROFINET via TSN and many more
new manufacturer specific communication for the Virtual Commissioning (for ex. Simulation Unit)
new possibilities for data exchange with the engineering tools of the AS manufacturers (eg TIA openness) or AML-based configuration data
The resulting development requirements in terms of feasibility, real-time capability and performance are significant. The selection of WinMOD Configurations for the project specific requirements must be consulted by WinMOD Consultants to ensure the feasibility and selection of best conceptual configuration.
Information about new configurations or updates can be found under the menu item News. For more information please contact our WinMOD Team.