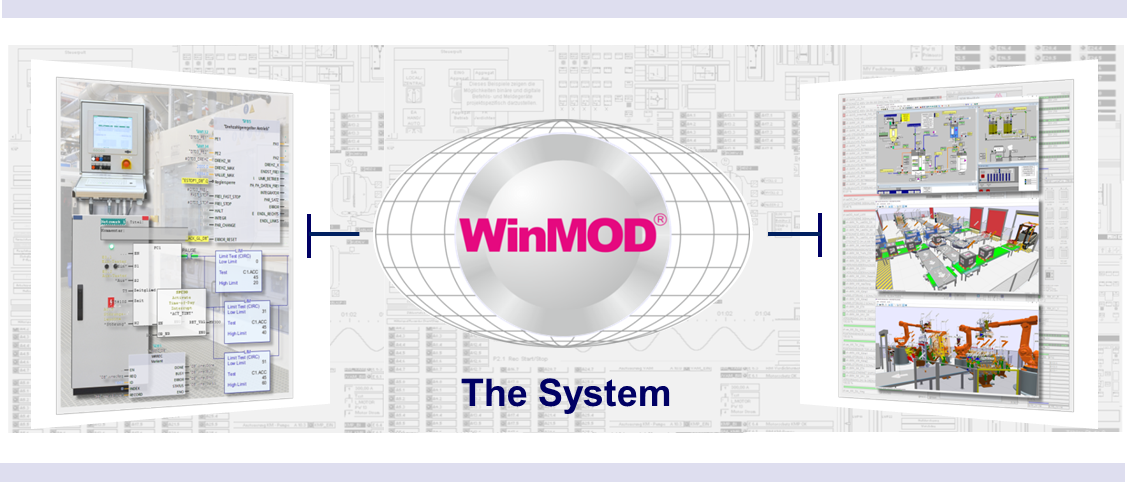 More Information WinMOD Summary (PDF)
What is WinMOD?

Since 1995 WinMOD is the Windows based modeling of communications, devices, machines and plants controlled by automation systems. From today's perspective, the digitization of the systems needs to be controlled. WinMOD helps in realizing the automation system in virtual world.
The modular WinMOD System Platform creates WinMOD Systems for virtualization, virtual commissioning (VC) and more.
The WinMOD System replaces the real-world system with a real-time behavioral simulation virtualized system. The visualization of signals, of reactions and time courses make the behavior transparent and perceptible – better than in reality. The opportunity for immediate interaction makes the user a contributor. The replacement of the system by virtualized systems can be done completely or in part on an automation system.
The WinMOD System combines the virtualized system with the automation system to form a fully operational system for an automated machine or plant.
 

It connects to one or more automation systems.

 

It connects to one or more real or simulated subsystems (e.g., robotic controls).

 

It connects to other engineering tools for data exchange.

 

It connects with other simulation tools to the integrated runtime system.
What do WinMOD Systems make possible?



The control software can be fully or partially commissioned with a real or virtual automation system.

The commissioning of the control software can take place at any location and also at any instant of time.

The virtualized machine or plant becomes the functional digital twin.

The digital twin is used over the life of the production plant for optimization of the control software, for the validation of migrations, for the qualification of plant operators and maintenance personnel.
WinMOD Projects

The purpose of use determines the content of WinMOD Projects in WinMOD Systems. The contents range from simple test environments to virtual devices and machines to complex plants in the manufacturing and process industries. The users of WinMOD Projects have special individual interests. The planner wants a well-perceptible functionality for the specification and virtual commissioning. The automation engineer needs an easily configurable test environment right from the start. The designer wants a configurable system to test his design early on the required functions. The operator wants a digital twin in order to qualify for operation and maintenance to plan and secure optimizations and migrations.
WinMOD for your uses
AS software test and validation

Factory Acceptance Test (FAT)

Virtual Commissioning (VC)

digitization for Industry 4.0

d

igital twin for VC planning, qualification and migration

digital education for automation with technology

WinMOD connects
the WinMOD System with the automation system with real and virtual communication

the WinMOD System with emulated fieldbus technology

the WinMOD System with other simulation systems such e.g.

robot simulation or process

simulation

different technologies in a production plant

e

mployees from different trades to a common view on the function
WinMOD is easy
in engineering by using well-known description languages and engineering assistance

in use through transparent visual perception and immediate interaction